Make your home perfect with 7 Design Architect in Winchester, Hampshire to discover, create and visualise your family home with next-generation 3D modelling.
Are you a homeowner looking for your forever home but don't want the hassle of a move?
Worried about financing your project? How much do things really cost, and should you invest in your current home?
At Renovation Wishlist, we offer a unique process as your Architect in Winchester, Hampshire, to explore what's possible with your existing property. We can help you make your existing home perfect. If you move, your expenditure could be £150k, and you will inherit a new set of issues to address. We can show you how to transform what you have already invested in.
We design inside and out using our dolls house process from concept to site. We manage structural alterations like floating the ground floor corners, unlocking your home's potential.
…creative spaces and deliverable contracts with cost and time surety…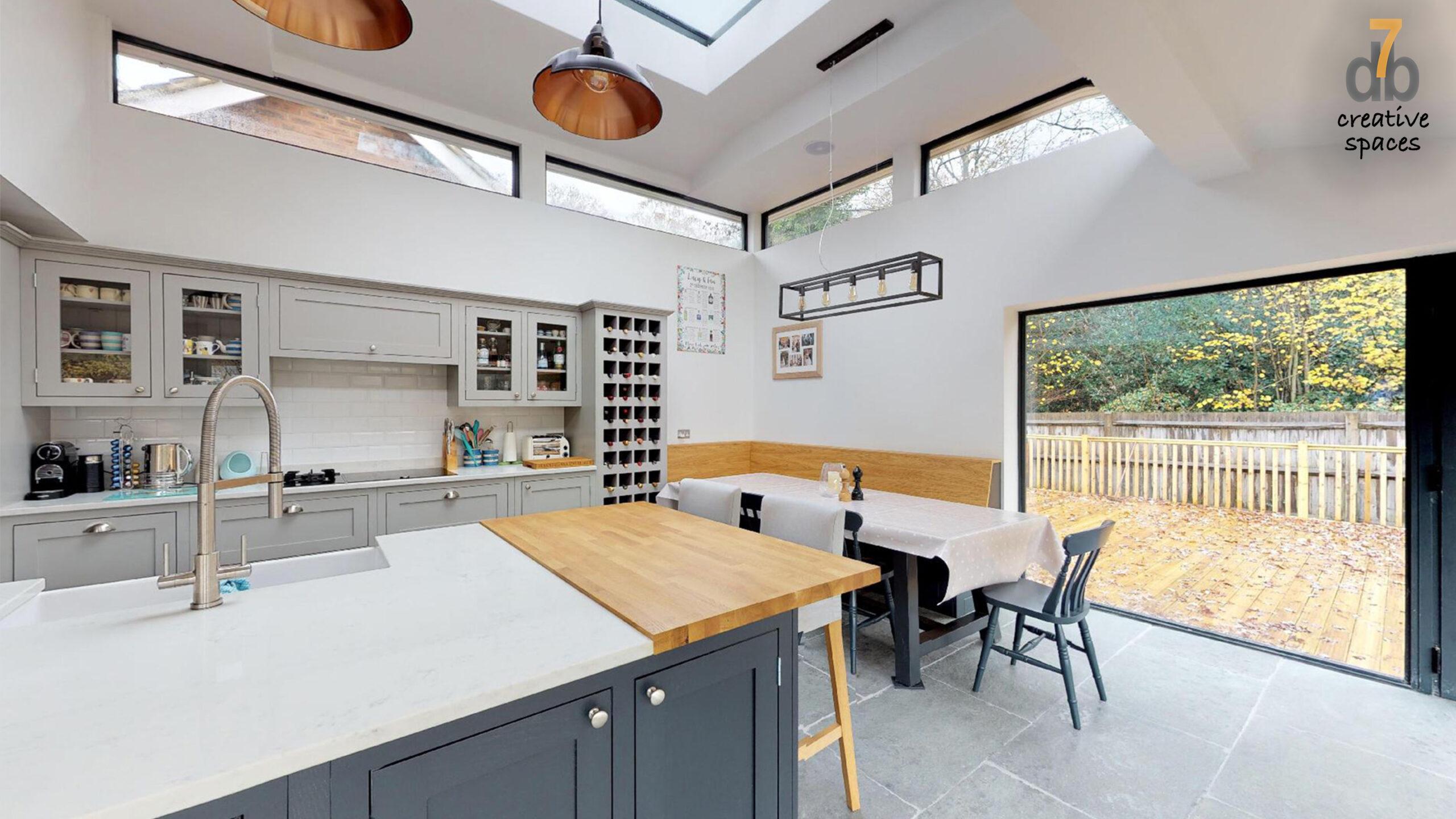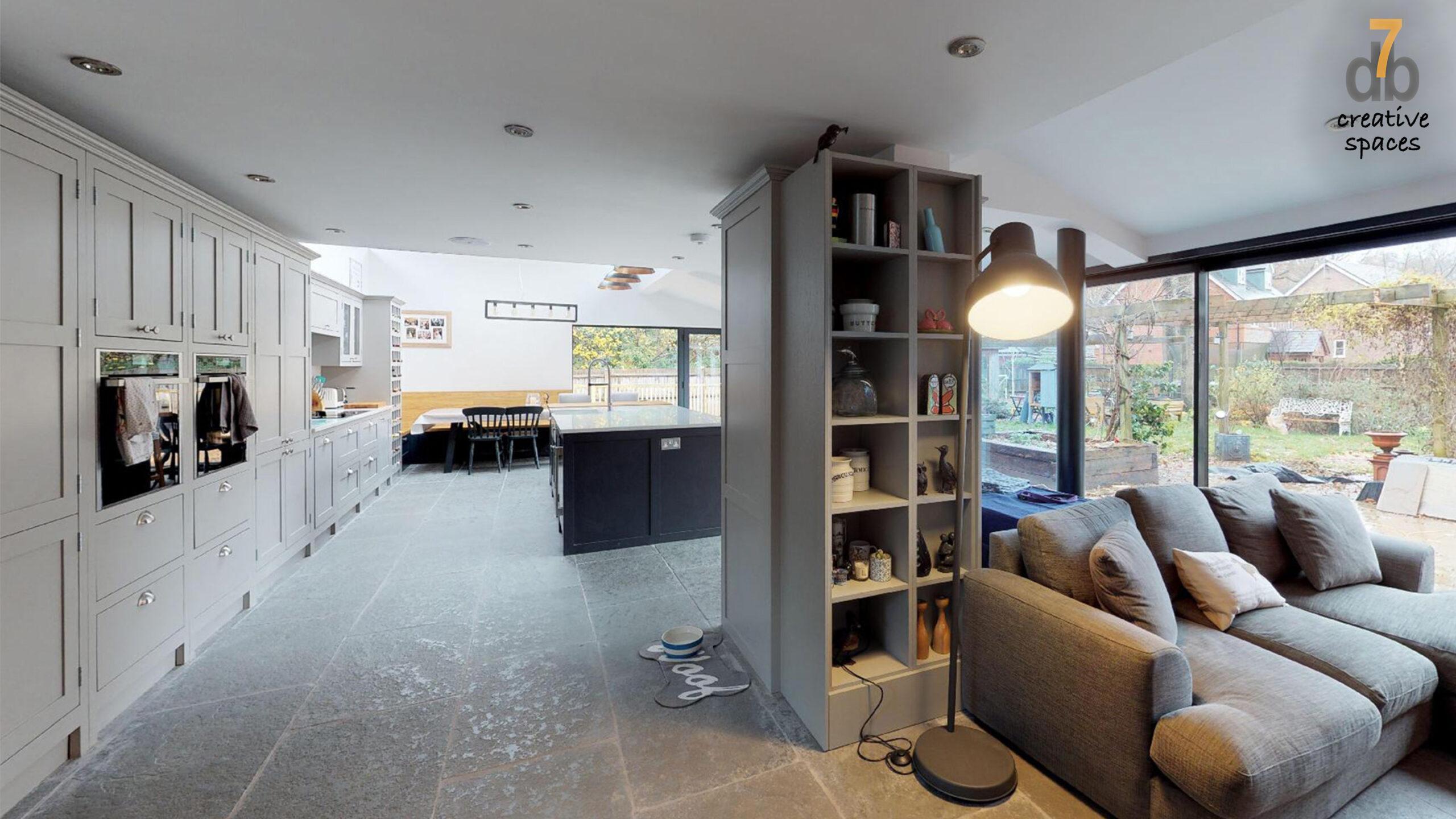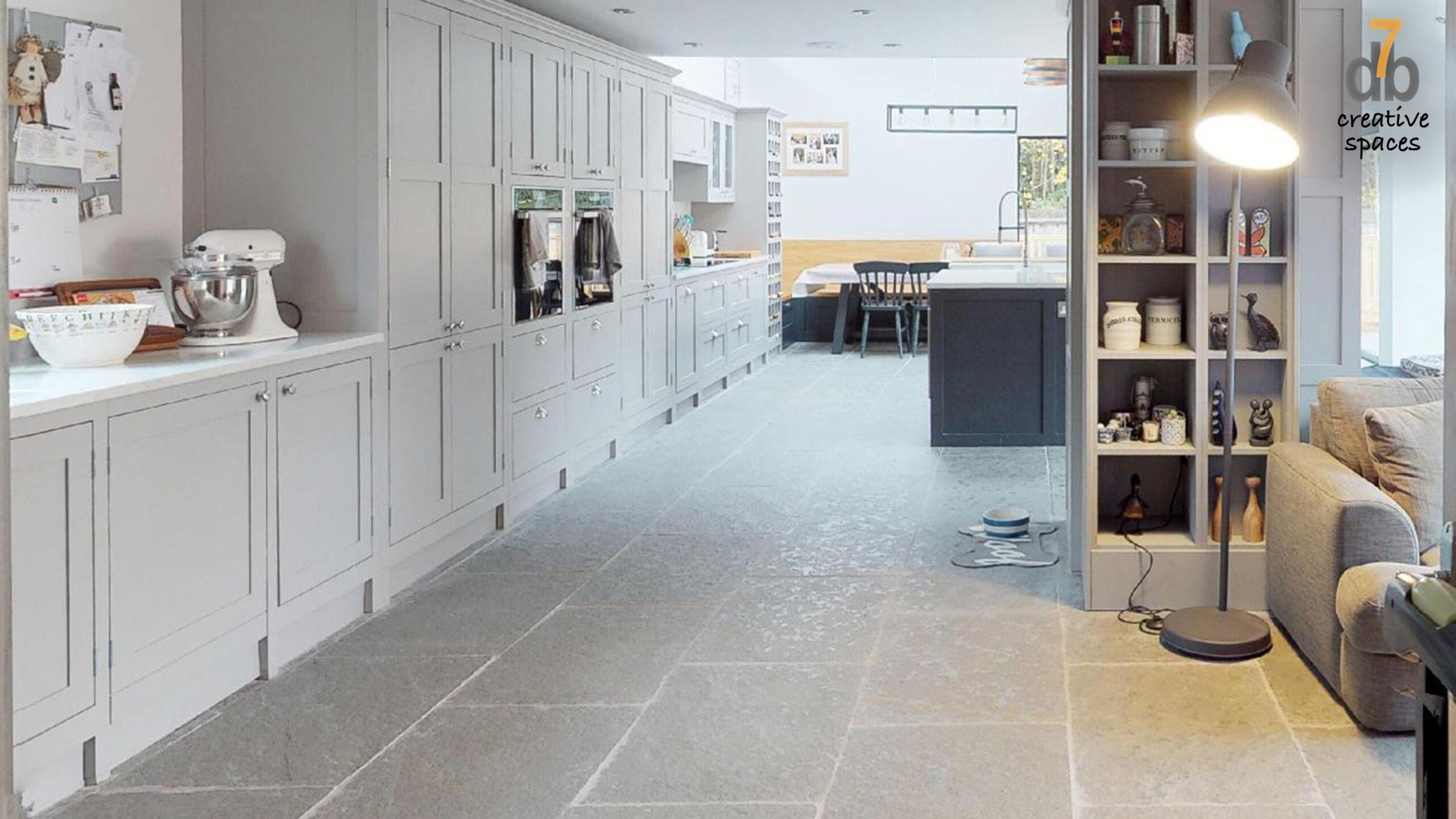 Work Steps & Testimonials
Step 1: Scanning & Photography
2 hours on-site – 1 week turnaround
Visualise your home in full 3D, creating an identically measured digital twin – we show you the full implications of your plans before committing to technical drawing.
Invite our architect-led team from 7 Design to create a full 3d scan of your home and replicate the construction 1 for 1 in its digital likeness. As you can see from the video below, this creative process allows 7 Design to copy your home digitally, so that new construction, expansion, modifications and elaborations can be visually and technically considered without the need to remain on site. This digital tool also allows for multiple scenarios to be evaluated quickly and comprehensively; the visual aspect of seeing how your home could look is groundbreaking and can save you time, energy and most importantly huge amounts of money. Don't commit to traditional architectural fees until you are confident in the process. Having these 3D scans allows for the next step, which is putting sketch ideas over the 3D model. An initial commission includes a scan capture with measurement and a 'walk and talk' through your wish list with a Chartered Architect. It's all about opening up what's possible and right for your family in terms of budget, scope and delivery.
The more time we spend here – the more the benefits in terms of cost savings and reduced stressare realised throughout the project
Read Rachel's Testimonial
Rear Extension
Even though this was only the first step in our architectural journey with 7 Design, the complete 3D scanning and photography stage sealed the deal for us.
Having a 1:1 digital copy of our property for use in the further stages saved us an incredible amount of money on technical drawing, which would have been obsolete as we changed our minds four times before settling on a design plan.
The best part is that this was all included in the fee. Before moving to the next step, we could see exactly how the property would look with our furniture and fittings.
Rachel
Step 2: Sketch Ideas
2-6 weeks to complete.
Discuss and evaluate the options available to you with 7 Design's unique 'dolls house' process.
Now that we have a full 3D, 1:1 model of your property, both the interior and the exterior, we can start to get creative. We will draw up floor plans and extensions within the 3D model and replicate these construction ideas digitally. The best part is that you can see these sketches against the 3D scan of your home. With our experience and knowledge, we can coach you through the design and build process.
This 3D scan is a groundbreaking technology that enables you, the homeowner, the foresight to see exactly what you are going to get out of your construction. This is the first opportunity where we can see the true-to-scale design implications and start to evaluate the project's cost.
Everything in this second step can be handled over a screen share from the comfort of your home at a time of the day that suits your busy schedule. In parallel to evaluating options within the dolls house process, we will coach you through the initial interior design process utilising example projects. Ideas boards through social media platforms to gather 'what's hot and what's not' in terms of look and feel as we progress the main decisions regarding the structure and scope of your home. We recommend three reviews with our Architect over time to enable you to process the suggestions and options. Working collaboratively together, we will achieve a unique design solution that breaks you free from previous boundaries and limits of expectation.
…we get the design fixed and then we can move forward with the project at pace
Read Phil's Testimonial
Front and Side Extension
When 7 Design presented our potential extension as a graphical overlay, we were blown away. Rather than trying to guess what the result would look like, we could see exactly what we were planning for.
Jamie at 7 Design even placed all our furniture in his 3D model so we could see how much of a walkway we had. We decided we wanted a bit more space and ended up changing our plans. I can't imagine how devastated we would have been if we had overlooked this, and we are so grateful for the 3D model and all the work 7 Design has done for us.
Not only was it cheaper to work with Jamie through this 7 step process, but we saved on disappointment and potential costs down the line.
Phil
Step 3: 3D Checks
Up to 2 weeks to complete.
Get confirmation that your plans will proceed without complications with our 3D checks
Now that we have the planning designs fully modelled in 3D we can overlay any existing technical drawings you have for the property. Whether it be from a previous architect or plans you have acquired elsewhere. This is an opportunity to communicate your requirements with a visual reference to aid you.
We can see impact and determine what's best in terms of specification and quality to strike the optimum balance for your project. We can re-run the scanning process for comparison during the build phase so that any site-specific detail is captured and relevant to main supply items such as steel, windows and doors. This can save substantial time and prevent issues on-site – allowing cost surety to be maintained as your project progresses.
We ensure you are ready in terms of an optimised design, understanding costs and how these are apportioned before we commit the design to technical matters and the controls of statutory approvals. We appraise the design and look forward to future stages of the design-build process so we can sidestep potential future issues before they arise.
…through digital dressing, we know the project is right for your family in terms of look and feel and what you can afford
Read John's Testimonial
We had architectural plans from a previous engagement that we stepped away from.  Even though we were no longer working with that architect, we were using his plans in our thought process when deciding what we would be doing on the property.
When we overlayed these plans on the 3D scan, we noticed that no matter how good they looked on paper, they would not fit our needs.
Thinking back on it now, we saved a lot of upset with this simple step that provided massive value.
John
Step 4: Planning Submission
Up to 2 weeks of creation time and 8-12 weeks of council processing.
Allow 7 Design to create orthographic plans and elevations based upon the agreed, fully visualised design
Take advantage of 7 Designs' extensive architectural experience by using our services for your planning submissions. We will take care of all your needs by handling pre-application requirements, drawing up full plans and then submitting them to the authorities. We will represent your interests as your planning consultant and s your agent. You can save thousands of pounds by getting your submission done right the first time. You have the peace of mind of having invested in the initial dolls house steps that we are delivering the design and obtaining the consent you need for the design you want to achieve.
We will produce technical, and orthographic plans and elevations with planning statements and high-quality photography to support your proposals.
7 Design will address the legal requirements of submissions to the local authority. There are two main statutory approvals: planning and building control, we will prepare and submit for planning, and when the time is right, we can move forward to the building control step.
…the design intent is clear from the initial dolls house visualisation – we know the priorities and the drivers for the project; this lets us compromise and adapts through the regulatory process, balancing requirements and all the time protecting your best interests.
7 Design will address the legal requirements of submissions to the local authority. There are two main statutory approvals: planning and building control, we will prepare and submit for planning, and when the time is right, we can move forward to the building control step.
Read Stacey & Tim's Testimonial
Jamie offered invaluable assistance when it came to creating and submitting our planning permission requests.
Being a first-time homeowner is scary enough and deciding to do work on the property was maybe a bit too ambitious so early on but we felt very confident with the care, assistance and persistence of the 7 Design team.
Stacey & Tim
Step 5: Technical Plans & Building Control
Up to 4 weeks of creation time and up to 8 weeks of approval process for 'full plans' submission.
7 Design will oversee your project from pen and paper to boots on the ground
Work on site is moving fast now and it's important to coordinate with us as your architect and team leader, we liaise between our clients, suppliers and contractors to ensure the building process is responsive and organized. We prepare the 'full plans' technical review to be in place before moving forward with the tender process. This is to ensure the information being priced is sufficient to enable the contractors to price correctly and for the tenders to be appraised on an even basis. We can advise on any specialist consultants employed by the client to ensure the best project outcomes.
We offer a considerable uptime in availability and respond to all requests within minutes or hours across the design team. Whether that is through Whatsapp, telephone, text or email. The more time we spend on the initial design work, the fewer amendments will be required. We will step into a control position whenever required, maintaining an inspection role and representing your interests on-site as your contract administrator. We can, in advance, set up and overlap the delivery of the 7 steps within an overall program, so rather than a relay race of baton-style handovers, we can accelerate timelines yet ensure roles and responsibilities are clear and deliverables are understood and defined. We adopt the proc information to be directly related to the build team and the contract that will be signed before work commences.
We aim to build a strong working relationship between all parties in the construction process so that no matter the project length we can maintain a solid working environment – that gets things done.
…the 'devil is in the detail' – design delivery requires consideration of factors such as buildability, some matters are unimportant, and some requirements must be protected to deliver the perfect home
Read Caroline's Testimonial
Having the 7 Design Build team on site allowed us to feel much more relaxed about having our entire home uprooted.
If you have ever had major work done on your home, you know how possessive you can be over every little thing.
This time, we took a step back and found ourselves entrusting the site management to Jamie.
When needed, on-site, Jamie always ensured everything was planned and scheduled for us to get the most out of everyone's time and keep the project moving forwards.
Caroline
Step 6: Details & Performance Specifications
Up to 2 weeks.
Clear understanding of technical requirements and how performance will be met during the build
It's not just about the technical general arrangement plans – it's also about detail and specification information that must be made clear and fully understood by the team – including the builder. We take this additional step to ensure that the contractual information is specific to the project and the teams involved. Our Architect will review with the supply chain and ensure the requirements are understood. Any critical path items and long lead-in items are clear within the delivery agreed within the building contract.
…the costs from the market are appraised, the builder has been shortlisted, and negotiation continues
until a contract is ready to be signed between the parties
Read Rosie's Testimonial
7 Design Build took our project from initial consultation to finishing; we are so grateful for their assistance and project management. We felt there were numerous occasions during the project in which we were completely overwhelmed. Fortunately, Jamie could handle most of the planning and negotiation conversations with our builders.
Rosie
Step 7: Tender Process & Site Management
Up to 2-4 weeks tendering process and generally 4-6 months site work.
Getting the right team for the job is one thing but keeping the project on schedule and organised is another – and we excel at both.
We need to get a form of building contract in place with a suitable builder – scope and cost agreed upon over time; we prepare and control the project programme.
You need to get a formal build contract in place – a standard contract. What might suit the builder might not suit you as a client. Interests need to be transparent and understood by both parties before signing. Specific requirements, such as insurance-backed guarantees for roofing works, must be made clear within the contract.
We are here to advise you on the various forms of contract available, what it means when a particular form is employed, and what that means in real terms through your project. We can also step in and directly assist where matters are not ideal, we work as a team, and as an example, if a contractor does not have the paperwork in place – such as a programme of work – we are proactive and will actively help the team to get the correct information into the contract for agreement and signing (attestation). Formats of available contracts will be reviewed, and we can advise you on the benefits and pitfalls of the various contract types available. The effect different roles and responsibilities can have on your project.
…from the site capture to the dolls house visualisations, we have agreed and defined costs; we have a building contract with a timeline to completion – it's time to build and make your home perfect.
Read Simon's Testimonial
The last step was the most exciting and rewarding. I was so happy to have 7 Design on-site to help us throughout the final stages.
Our tender process went smoothly and was completed within the month. All that scary paperwork was handled by 7 Design.
Regarding the build process, I have very limited knowledge of what it takes to construct anything. I felt so fortunate that Jamie and his team picked up on many potential complications during the build process and found a solution alongside our builders. 
Simon
7 Design Build, your local architect in Winchester, Hampshire.